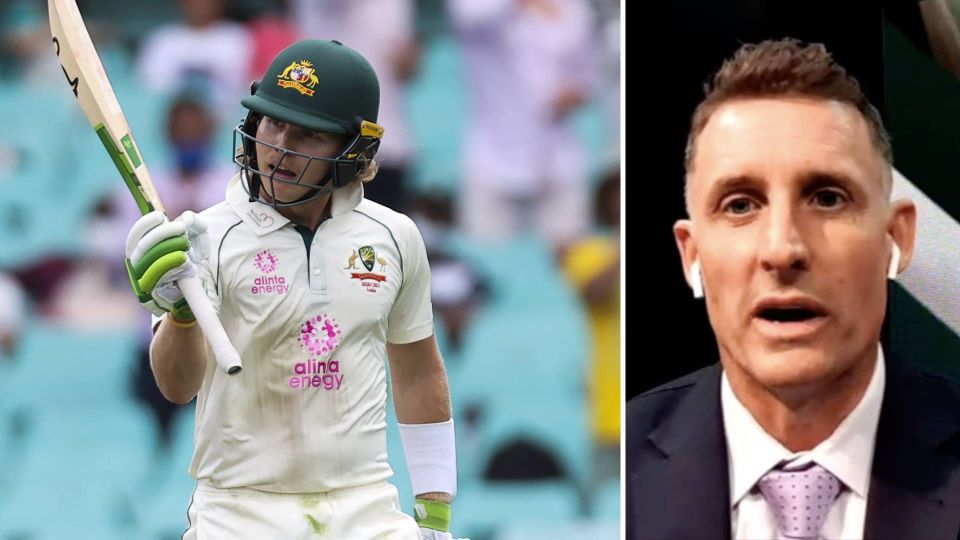 01:28
Mike Hussey: Will Pucovski looked very composed at the crease
Reassuring medical opinion that he did not need to be concerned about long-term damage helped prepare Will Pucovski for his Test debut after what he admitted had been a "rollercoaster" period following a ninth concussion last month.
Pucovski was felled by a bouncer from Kartik Tyagi the Australia A match against India at Drummoyne Oval in early December and was ruled out of contention for the first two Tests of the series. It was no given that he would be brought into the side at the first opportunity, and in the days leading up to the SCG match he visited an independent neurologist alongside the specialists used by Cricket Australia.
The advice he received allowed him to look Australia coach Justin Langer in the eyes and tell him he was ready and available. A couple of days of nets followed, before he was told on Wednesday that he was in the side, forming a new opening partnership with David Warner.
"It's been quite surreal… it's been a bit of a rollercoaster, getting hit about a month ago and been to millions of different doctors it feels like trying to get a bit of clarity and a bit of an answer as to what the go was and everything along those lines.
"But I managed to get through all the protocols and put myself up for selection and lucky enough to get selected. Has been a bit of a whirlwind but awesome to be here."
The maturity with which Pucovski speaks about all topics from batting, dealing with concussions and his mental health has always stood out and he is aware that he needs to be sure life after cricket is not impacted by what takes place on the field.
"When you get the information from doctors that things are actually going okay and there's nothing too much to worry about long-term at this stage it makes it a lot easier for you," he said. "It's one of those things with your head, you don't want to risk it because you've got a long life after cricket and a long life after sport [that] you want to be fit and healthy for.
"I sought some different opinions on what was going on and I was pretty satisfied I'm in a pretty good place to continue even if I get hit again it shouldn't be too much of an issue. But we'll cross that bridge when we come to it."
Pucovski admitted he had a slightly restless night knowing he was going to debut, but that the occasion itself did not feel as overwhelming as he thought it might. He was given the option over whether to face the first ball and after some back-and-forth decided to dive straight in.
"In my head I think I'd built up I was going to be ridiculously nervous and it wasn't that bad in the end. I was just excited that the opportunity had finally got there. In that sense it was actually quite calming in a way. It was pretty cool going out to bat
"It was one of those days where I was just absolutely loving it. Probably my favourite day of cricket to date and it's just a really exciting experience playing your first game for Australia but on top of that obviously with a bit of background to get to the position I'm in, it was just pretty awesome to be out there."
Andrew McGlashan is a deputy editor at ESPNcricinfo
©
ESPN Sports Media Ltd.